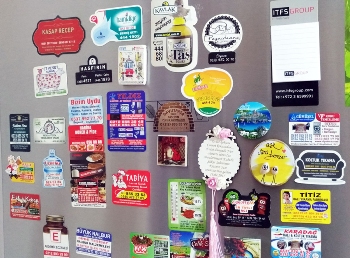 Magnet; It is a kind of advertising tool that can be used by almost every business. Magnet usually contains information such as company name, logo, address, phone. Almost all of us have more than one magnet on the refrigerator. You can access the sample magnet images here. It is an advertising vehicle in every firm from taxi, restaurant, dry cleaning to electrician. We can say we all have it. Have you ever wondered about the design of this great product?
We are going to this curiosity for you in this article how to do magnet design? What programs does it use? How should print quality be? We will explain them all one by one for you.
We recommend you do this type of product design in the vector program "Adobe Illustrator Bu. You can't have a problem with printing. Open your program and open the new page from the file> new menu to the extent you want to open the image mode CMYK (the colors of the products to be printed in this way) you need to do. We set a seamless print color to CMYK.
You will see the blend menu on the same page. Blend means the cut-off, which is cut through the product you designed, which can lead to cutting errors.
We give the minimum cutting share in cm and mm if you have opened it in cm. We make the colums part 1 from the options that the magnet prints are unilateral. Magnet designs are generally horizontal. Again on the same page you will see the page icon horizontal-vertical option, pointing to the bed, clicking the arrow below opens our page.
After that, the business remains to design. After entering your company name, logo, motto, slogan, work you do, you save your design.
You have seen the red lines when you open your page. In the previous screen, the vernis of which you are vernis are the lines of cut. Make sure that your articles do not exceed that line, and then press CTRL + SHIFT + O and select CTRL + A from the keyboard. The name of this process is to convert your design to the illustrator. If you do not do this, the printing company may see your work missing or not at all. Lastly, you save your file as pdf by clicking on file> save. And you're sending it to print.
We hope this article has been helpful...